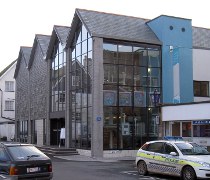 Donations to Local Organisations
The Society recognises that a number of other local organisations do important work, for example helping to conserve the natural environment, preserving or enhancing buildings, providing community facilities, or fostering education. From time to time, it makes donations in support of such projects, where their achievement can be linked to the Society's objectives.
Each year from its current account, the Society contributes towards the cost of such projects. Major donations (£500 and above) have been largely directed towards building projects, such as the Flavel, but smaller donations (from £50) have been made toward a wide range of initiatives.
Major donations in recent years have been to:
The Flavel
Townstal Community Hall
St Barnabas Church redevelopment for Training for Life
St Clement's Church, Townstal, refurbishment of a Grade 1 Listed Building
Setting up the RNLI Lifeboat Station in Dartmouth

Smaller donations have been made, amongst others, to Dartmouth In Bloom, Dartmouth Chamber of Trade and the Port of Dartmouth Royal Regatta.